To correctly assess Fire and Smoke Damage and determine the level of remediation required for the building, we must first clarify the type of fire that has occurred.
This is important as the contaminants caused by smoke are entirely dependent on the materials burnt, fuel available, timeframe, temperatures reached, building construction methods and building materials.  The type of fire also defines the extinguishing methods used, and these can create secondary issues usually associated with water damage categories.
The most common types of fire are:
1. Low oxygen fires (slow-burning fires)
Slow burning low oxygen fires cause odorous and wet, difficult-to-remove residue that requires prompt mitigation procedures to minimise losses. A typical slow-burning fire is an incident when the mains incoming electrical supply is overloaded or has a poor connection. Gradually the surrounding materials start to smoulder and burn.
Characteristics 
These fires start slowly, and as they are often in cupboards, the oxygen supply is restricted.
The smoke produced will contain a higher proportion of aerosols, and these will often find a way to get into building cavities by following the cable runs. This can be a problem as the odour can be challenging to treat in inaccessible places.
To the untrained eye, these types of fire residues look minor, with less obvious light brown staining.
2. Oxygen rich fires (fast burning fires)
Fast burning oxygen rich fires cause dry residues that affect multiple areas and are carried into difficult-to-access places and items.
Characteristics 
Items suffer from more thermal Damage (scorching and distortion)
A large number of smoke chains and cobwebs are visible at high levels
Voids and roof spaces may require some form of treatment
3.  Protein fires
Protein fires cause odorous residues that cannot be seen with the naked eye. These fires are usually a result of burning meat, fish or some other protein.
Characteristics 
Odours often resemble items burnt (fish, chicken, meat etc.)
Dismantling of fixed items within the area of the seat of the fire is generally necessary.
These require numerous odour-removal techniques and aid with restoration processes.
Extremely difficult to remove odours and contaminants
Why does smoke and soot travel throughout the entire building, often to areas remote from the site of the fire?
In a nutshell, high and low-pressure movement will determine the path . 
The laws of physics dictate that gases move from high to low-pressure areas in an attempt to reach equilibrium. When hot, high-pressure smoke enters a room, the smoke can be sucked into the lower-pressure, cooler environment of drawers, cupboards, voids, cavities, roof spaces and additional remote rooms. This is why widespread contamination is more than we would expect to see.
Whilst all of the categories of fire damage cause damage to varying degrees, the one thing that they have in common is that all of them produce both Primary and Secondary Damage.

Primary Damage is associated with immediate damage caused by the fire itself, the material that has burned, structural Damage, or that has been thermally damaged by the fire itself, i.e. charred timber, burned plastic, burned cables, burned contents etc.
Secondary Damage relates to the damage not caused directly by fire, but as a consequence of fire. These are usually caused by the corrosive residues produced by the burning of materials and also caused by the water used to extinguish the fire. In many cases, costs associated with the remediation of secondary damage are significantly greater than the initial primary damage.
Therefore assessing, uncovering and identifying the full extent of the secondary damage is critical to the successful remediation and treatment of the building. Identifying secondary damage is only possible if you or your Chartered Surveyor understand the full mechanics of the fire and combustion. Therefore, generally, specialist knowledge and training are required to uncover these unforeseen and unexpected damages.
How to identify items at risk of secondary damage?
High chloride levels and visible corrosion usually reveal corrosive residues. Look at what burnt. If there were large amounts of PVC, plastics, or man-made composite materials involved, for example, e.g. (a plastic waste pipe, windows, or laminated worktops are usually made from PVC and plastics), these can produce corrosive residues.
Secondary Damage following fires is usually caused by:
Acid corrosion
Staining.
Odour absorption.
Humidity/water damage and mould growth, caused by the water used to extinguish the fire and/or damaged water pipework/storage tanks that the fire has thermally damaged.
What types of materials are at risk of secondary damage?
Electrical equipment and especially electronic circuitry are very vulnerable when chlorides are present. Such as TV's, Kitchen Appliances, Laptops, printers, computers, servers, in fact, any item that has a circuit board is deemed to be at risk.
Machinery and tools.
Metallic items such as door handles, shower doors etc.
Stainless steel is particularly at risk of corrosion.
Aluminium windows.
Brass electrical fittings.
Gilding on picture frames or metal ornaments.
Plastic laminated surfaces on kitchen, wardrobes and fitted units.
Fabrics and building materials that may support mould growth.
Certain plastic materials and unsealed timber.
UPVC windows and doors.
If smoke and soot damage is not correctly classified and remediated, permanent Damage can be caused to the buildings.
If the incorrect treatment method is employed, it can cause staining and corrosion to materials, such as uPVC/Aluminum Windows, Sanitary ware, timber finishes, kitchen units, electronics, appliances, carpets etc.
Improper or incorrect materials used in cleaning can cause obnoxious odours to be permanently ingrained and trapped within the materials, and no level of treatment will recover the material.
Don't stress. Expert Help is available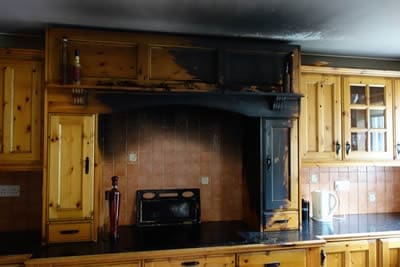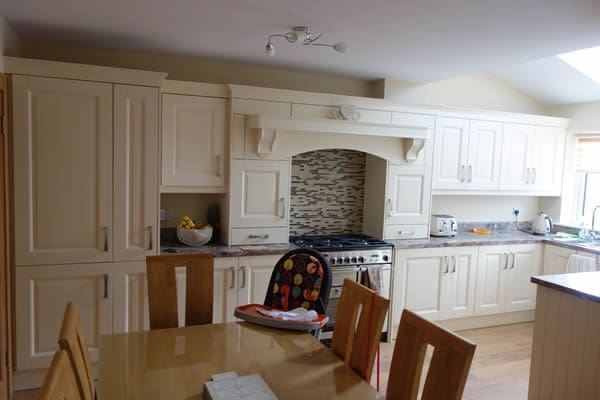 If you are unfortunate enough to suffer a loss to your home or business, ensure that the appointed Public Loss Assessors/Chartered Building Surveyors are experts in classifying and assessing fire damage and its effects on your building.
Insurance Claim Solutions are proud to be accredited by the British Damage Management Association. 
We have been awarded the highest available Insurance Tech qualification, following successful training and independent examination –  BDMA Accreditation.
If you need help with assessing the damage and managing your insurance claim, contact us.