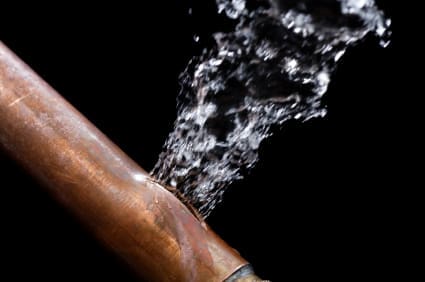 A burst pipe can cause a lot of damage to your home's structure, furnishings and electrical wiring. It is therefore important to act swiftly, before serious damage is done.
The following steps describe what you should do as soon as you discover a burst pipe:
1. Turn off the water supply
Turn off the main stop tap – you should find it under the kitchen sink or where the service pipe enters your home.
Drain the system – turn on all your cold taps.
If water has been leaking through for some time and the ceilings are bulging – be careful, rooms may not be safe to enter.
If you notice the leak quickly you can catch dripping water in buckets. Poke a hole in the ceiling to let water out if it starts to bulge.
2. Turn off water heating systems
Switch off the central heating, immersion heater and any other water heating systems.
If the central heating uses solid fuel, let this die out. Once water heating has shut down, turn on the hot taps to help drain the system.
3. Turn off the electrics
If water leaks near your electrics or electrical appliances, switch off the mains immediately. If it is wet, don't touch them!
4. Call Insurance Claim Solutions
Before you can start repairing the water damage, you should carry out a thorough assessment of your property and document all the damage, this should preferably be done by someone who has experience of dealing with water damage insurance claims as many areas of damage are not always immediately obvious to the untrained. It is also important examine your insurance policy to determine exactly what you are covered for.
Home owners, inexperienced in handling insurance claims, often miss out a lot of details especially related to secondary water damage. Sometimes water leaks into spaces that are not immediately obvious, causing rot, mould or rusting.
A Public Insurance Claim Assessor will help you uncover the full extend of any damage and ensure that you receive the full compensation you are entitled to.
Frozen Pipes
Frozen pipes that have split can cause a lot of damage to your property when they thaw. The most common frost damage occurs in badly insulated attic spaces, so ensure that all pipes and tanks are lagged and remove loft insulation from immediately below the tanks in order to let some heat filter up to them.
If you are concerned about pipes freezing in your attic you can leave your loft hatch slightly open to allow further heat to enter into the roof space.
If you are going away in the winter turn the mains water off and run your taps until the pipes are empty, then if there is a freeze your holiday won't be ruined coming home to a flooded house.