ICS Loss Assessor Tips for Managing a Flood Damage Claim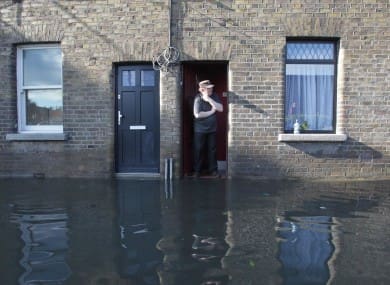 Flood damage claim | Flood damage claims are particularly difficult to deal with as so many people are usually affected at the same time.
Insurers have estimated that the flood damage claims caused by the latest flooding could hit €100 million or more.
Flood Damage Claims are complicated to assess and manage as they are made up of so many elements.
They aso usually take a long time to pay out. If you want a speedy and full compensation for the damages you suffered, best to let the professionals handle your claim.
However, if you want to handle it yourself, but wondering what to do, here is our advice. 
Flood Damage Claim Step 1 – Assure safety
If flooding was severe and you needed to evacuate, it is vital that the soundness of the structure of your home is assessed before you can step inside.
Flood waters often cause secondary damage such as subsidence; they also affect electrical wiring and sanitation problems. Insurance Claim Solutions has contacts with many specialised contractors that can help you assess quickly if the  property is safe to return to.
We will also do an initial assessment of damages to the property, document them and advise you what emergency repairs and actions can you take before the claim is assessed and approved, without affecting the amount of your final settlement.
Flood Damage Claim Step 2 – Drying and emergency repairing process
As flooding usually affects not just one household but the entire community, sourcing the equipment and contractors who can extract water and dry your property can be a challenge.
Insurance Claim Solutions will advise you how you can find someone who can pump out the water and carry out emergency repairs to prevent additional damage to your property.
Flood Damage Claim Step 3 – Assess the full damage and file the insurance claim
We will help you with making inventory of all the damaged items, help you assess the replacement or repair cost for all the items and complete all the required paperwork. We will ensure that all potential damage is uncovered, including potential rot, mould and mildew hazard.
We will also meet with the Insurance Loss Adjuster and point out specific aspects of your flood damage.
Flood Damage Claim Step 4 – Negotiate settlement and follow up on payment
Once the claim is assessed, we will negotiate speedy settlement with your insurers and follow up on the final payment.
Let an experienced loss Aassessor help you with your flood damage claim
Insurance Claim Solutions are experts in handling all types of insurance claims, including flood damages. We have good relationships with the insurers and the building restoration companies and can generally get things done much faster than the average policy holder.
In most cases, we can also get a better settlement figure, simply because we can point out the damages that are not immediately obvious and the insurers tend to omit in order to minimise their losses.
Should you decide to use our services to manage your claim, we will:
tell you the exact steps you need to take to get a compensation as soon as possible
read the small print in your insurance policy and advise you what damages you can claim for
help you assess the damages and calculate the losses due to business interruption
document the damages and make an inventory
help you source reliable contractors who will help you clean up, dry, repair and restore your business property to the pre-loss condition
help you get realistic quotations
complete all paperwork and file the claim with your insurer
meet with the insurer's Loss Adjuster and ensure that all damages have been properly assessed
follow up with the insurers on their claim assessment process and keep you informed
negotiate with your insurer a realistic settlement figure, so you are not left out of pocket
arrange for interim payments, so you can begin cleaning up and restoration work as soon as possible.
chase up the final payment
Dont suffer the stress of handling your own claim. Call us for a free survey 086 357 1713