Insurance Claim Solutions
Business Interruption Insurance Claims
FREE Initial Consultation & Advice
and if you decide to appoint us, you don't pay anything
until your claim is settled.
BUsiness interruption claim ADVICE
Business Interruption and Other Business Claims
Business Interruption Insurance will compensate you for the loss of income resulting from damage or loss of property resulting from fire, storm, flood, burst pipe, theft or malicious damage.
Loss of revenue resulting from property damage e.g. burnt down or flooded premises frequently exceeds the value of damaged property, so it is important to assess it correctly and submit a claim as soon as possible.
Unfortunately Business Interruption policy cover does not apply automatically.
It is usually an extension to your property insurance policy and it can have several components such as profits, fixed costs, extra expenses etc. You need to make sure that your specific peril cover has business interruption extension. This applies especially to cover for health and public safety issues including Covid 19.
Insurance Claim Advice
How to claim for Business Interruption?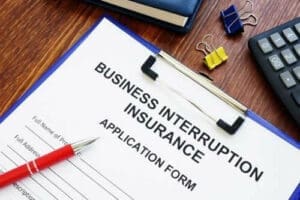 As Business Interruption Claims are rarely straightforward, it is advisable that you speak to an expert Loss Assessor rather than try to file the claim yourself.
It is vital to get in touch with someone early in the process, as the first week being critical in assessing the loss and ensuring trouble-free settlement.
Policy wording is often open to interpretation and if you are not an insurance expert, you may miss something in the small print.
Although your accountant may be able to come up with projected sales and profit figures, it takes expert insurance knowledge to calculate the maximum entitlement you can claim under your Business Interruption Policy cover.
If you need help with assessing your loss,  interpreting your policy wording, or completing your Business Interruption claim, contact us.
We have extensive experience in handling many different types of business claims, from fire damage to flood, water damage, subsidence, burglary, malicious damage, and including Covid-19 business interruption claims.
We have an impressive track record and we pride ourselves in being able to negotiate, in most cases, full compensation, no matter how difficult was the claim.
How can we help
Business Claims Assistance
Insurance Claim Solutions have the professional expertise to help you interpret the small print in your insurance policy and correctly assess the damages for which you are entitled to claim.
As we are not just Loss Assessors, but also qualified Building Surveyors, we can easily uncover secondary damages, whether they are caused by smoke, water or activities performed to extinguish the fire or stop more extensive damage to property.
Secondary damages may not be immediately obvious but can surface months after your claim has been processed and your file closed.
Once the extent of your cover has been established, we can provide solutions in the short term, whilst your business gets back on its feet. We understand that interim payments are essential to keep cash flowing and the business moving.
Insurance Claim Solutions are experienced negotiators, so we can move your business claim forward without unnecessary confrontation. We can also usually get a much higher settlement than you could by managing the claim yourself.
Browse through this website and learn more about our claims assistance for the following types of business claims:
fire and smoke damage
water damage
flood damage
subsidence
burglary or malicious damage to your property
storm damage
oil leak
impact damage
business interruption
We have tried to provide a simplistic overview of our claim management process, but in reality the devil is in the detail, as each claim is different.
We take care of the entire claim management process, from completing the paperwork and submitting the claim, to meeting with the Loss Adjuster, negotiating the settlement, helping you secure temporary premises, organising clean-up and repairs, and ensuring a speedy pay out.