3D Technology and Property Insurance Claims..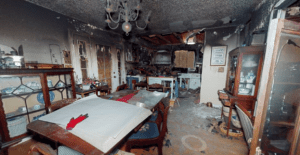 Insurance Claim Solutions have embraced 3D digital transformation and innovation by being the very first operator in the Irish Insurance Claims industry to adopt and integrate 3d HDR virtual walkthroughs on our large and complex loss claims. Our new 3D Technology Platform allows us to capture the loss in minuscule detail, by creating a digital twin of the loss, freezing the damage in time and enabling offsite referencing and review.
In a nutshell, our 3D Platform helps us capture much more comprehensive damage footage, allowing us to compile and formulate more accurate and complete claims submissions, leading to much better settlements for our clients.
This is how it works …
Our HDR 3D Camera captures HDR footage of the entire building envelope every at regular intervals; our camera then manages the 3D reconstruction process at high speed to create the exact digital twin. The Oculus lens allows us to create a virtual walkthrough that we can send to clients, contractors and anyone else who might need it. The thing we love the most about it is the ability to revisit the scene at any moment without having to visit physically, we can also zoom in on our 3D model for greater accuracy, e.g. we can see the contents on a shelf, wardrobe, kitchen units, room contents, draw a line or get an accurate measurement.
How it helps our clients..
Our 3D Technology helps us truly prove our client's loss beyond any doubt, far more than a photo or series of photos can ever achieve, e.g. if there is any discrepancy or dispute and demolition has already taken place, all we have to do is review the image library, go "back to the scene", and the proof is there. We can also send a link to any relevant party without them having to be on-site and boom, case closed !!
Our revolutionary 3D Technology makes life a lot easier for everyone involved in a claim, and it has endless possibilities for useful application. We're always looking for new ways to help our clients get ahead in their claims, and this new platform is a huge help.
Remember if you've had a fire, flood or other property loss resulting in an insurance claim, get in touch with Trevor Kelly at 0863571713 for immediate expert advice and help.
Need Help With Your Insurance Claim?
Eliminate the Stress of Dealing With The Insurers * Get Faster Settlement of Your Claim * Get A Full Compensation For Your Loss * NO WIN - NO FEE *
My name is Trevor Kelly. I am highly experienced Public Loss Assessor and Insurance Claims Expert. I can take away the stress of dealing with the insurers, help you assess the damage, prepare your claim and make sure that you get a full compensation for your loss. FREE, no obligation on site assessment of your claim.
Call our 24 hour emergency number  086 357 1713, or request a call back by entering your details below.
Smoke Damage Claim: Trevor looked after everything, we didn't have to do anything….I wouldn't have had any idea about where to start.
Fire and Smoke Damage Claim - Joe Hearty from Terenure
Insurance Claim Solutions
Golf Rd, Rush, Co. Dublin
Mobile: 086 357 1713 Phone : 01 870 9210
We are registered as Public Loss Assessors and fully regulated by the Central Bank of Ireland
Are You Fully Insured?
Download this FREE
House Rebuilding Costs Guide and find out.